Welcome to
Mortlake Caravan Park
A centrally located park within walking distance to all local attractions.
A real gem of a place to explore…
Situated at the foot of dormant volcano Mt Shadwell, Mortlake is the centre of the rich agricultural and pastoral Great South Coast region of Victoria.
From fishing to gem fossicking in the volcanic rocks of Mt Shadwell, Mortlake has it all. The thriving rural town on the Hamilton Highway has a variety of eating spots, great sporting facilities including a 50-metre swimming pool, skate park, historic bluestone precinct and a relaxed country atmosphere.
Mortlake Caravan Park is ideally situated within the beautiful Tea Tree Lake reserve and gardens and provides ample open space for leisurely strolls or for the kids to play. Centrally located and within walking distance to all attractions, Mortlake Caravan Park is a great base for exploring the town, trying your luck at trout fishing in Tea Tree Lake and gem fossicking at Mount Shadwell.
The units give an immediate impression of openness and relaxed comfort. Carefully intended to offer couples time together, these units offer, all the comforts of home.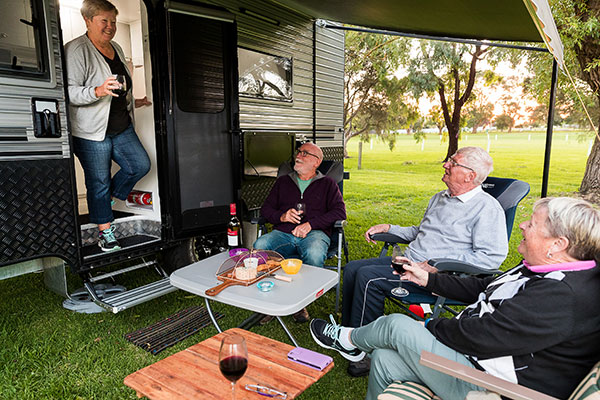 Enjoy our spacious green grassed powered and unpowered sites suited for all variety of caravaning and camping.
We offer specials and promotions to encourage visitors to the area all-year-round.
Way too expensive for a powered and uncovered sites!!!!!!!!!!
Stayed overnight on camping site recently. Paul a very charming host. Facilities old but very clean and well maintained. Camp kitchen no frills but adequate. Pleasant location and good for dogs.
Lovely little park. Dog friendly Nice mix of gardens and countryside. Small town with a couple good places to eat. Park owner is really sweet. Amenities were nice. Lovely place to camp overnight. One downside was the birds. Those things don't know how to be quiet. I suggest you bring earplugs. Would stay again if I ever pass through there again.
Great park to relax. Especially with little babies. Paul is fantastic 🙂
Very nice place, amenities clean, Paul was very helpful ! Totally recommend !
Christelle Matherat
2022-12-31
We would highly recommend this park. Quiet, lush green grass, very clean amenities and a very nice and informative caravan park caretaker.
Very clean, peaceful. Park manager is awesome. Skate park for kids, small but tidy and easy to navigate. Lots of walking trails and sensational bird life.
Holiday with your best friend
What would make a great holiday event better? Bring your "man's best friend" along with you of course.
There's no need to organise a dog sitter for your next trip away as you can bring him or her along with you. Mortlake Caravan Park welcomes all dogs and is a dog-friendly caravan park.
For more information, please contact our office.
The Port Fairy Folk Festival is an annual celebration of music, dance, and cultural diversity held in the coastal town of Port Fairy, Victoria, Australia. The festival, which began in 1977, has grown to become one of Australia's premier folk music events, drawing...
read more