Welcome to
Mortlake Caravan Park
A centrally located park within walking distance to all local attractions.
Make A Booking
A real gem of a place to explore…
Situated at the foot of dormant volcano Mt Shadwell, Mortlake is the centre of the rich agricultural and pastoral Great South Coast region of Victoria.
From fishing to gem fossicking in the volcanic rocks of Mt Shadwell, Mortlake has it all. The thriving rural town on the Hamilton Highway has a variety of eating spots, great sporting facilities including a 50-metre swimming pool, skate park, historic bluestone precinct and a relaxed country atmosphere.
Mortlake Caravan Park is ideally situated within the beautiful Tea Tree Lake reserve and gardens and provides ample open space for leisurely strolls or for the kids to play. Centrally located and within walking distance to all attractions, Mortlake Caravan Park is a great base for exploring the town, trying your luck at trout fishing in Tea Tree Lake and gem fossicking at Mount Shadwell.
Packing for Holidays?
Our beautiful Mortlake Caravan Park is open… and we're excited to welcome you on your next visit!
Packing for a holiday? There are a few extra things to squeeze into your case this time:
– face masks
– hand sanitiser
– disinfectant wipes
– 1.5m ruler
Well maybe best judgement applies to the last item…
Happy COVIDSafe travels.
To learn more visit the Coronavirus Victorian Government website.
Escape, explore and experience… pack your bags!
Congratulations Melbourne you have made it through and now it's time to escape, explore and experience your regional backyard!
We welcome back all our Melbourne friends and we can't wait to see you. Come and explore our wide open spaces, beautiful fresh air and unique hidden treasures…
Our Gardens, Southcombe, Yambuk Lake, Killarney Beach, Koroit-Tower Hill and Mortlake Caravan Parks are all now open and looking beautiful ready for visitors.
Our friendly group of NEW Managers from our Yambuk Lake, Killarney Beach, Koroit-Tower Hill and Mortlake Caravan Parks (pictured)… look forward to meeting you, providing excellent customer service and park facilities plus an extraordinary experience!
Our trusty and long serving Park Managers from our Gardens and Southcombe Caravan Parks in Port Fairy, will give you that big friendly wave in person!
Pack your bags… we look forward to seeing you!
For our COVIDSafe measures visit our guest safety page.
A great big Welcome to Shirley & Richard!
A great big welcome to our new friendly Mortlake Caravan Park managers, Shirley and Richard.
Shirley and Richard are a well-travelled and adaptable couple having spent the past six years as relief caravan park caretakers throughout Australia.
"…We have been as far north as Port Douglas, as far south as Bernie in Tasmania and as remotely west as Birdsville."
Having spent the past two years caretaking on the beautiful Port Phillip Bay, they welcome the relaxed country atmosphere of Mortlake.
The Mortlake Caravan Park ideally is situated beside Tea Tree Lake Reserve and a short stroll to the historic blue stone township of Mortlake. Positioned at the foot of dormant volcano Mt Shadwell where you can gem fossick, or walk into town and try the great eating spots.
For more information call Shirley and Richard on 0409 428 870
Park Specials
Check out what amazing deals you can pick up for your next holiday to Mortlake.
After a brief closure, we're thrilled to be able to welcome back our regional Victorian guests.
Just a little longer Melbourne, we can't wait to see you!
Explore what we have to offer…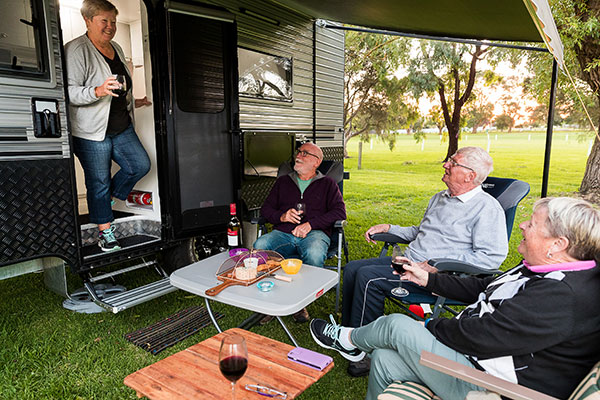 Choose from our powered and unpowered sites. Our park is the ideal central point for your visit to the Mortlake region.
This regional park has facilities that will make your holiday enjoyable and relaxing, from camp kitchens to a great public kids' playground and skate park.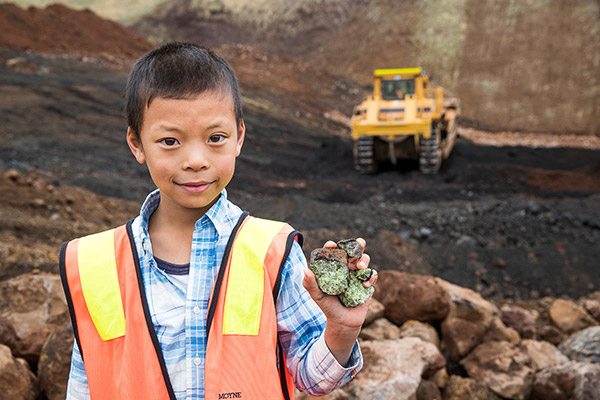 From an abundance of fishing spots to gem fossicking, Mortlake has it all. Come visit our thriving town for a relaxed country atmosphere.
Holiday with your best friend.
What would make a great holiday event better? Bring your "man's best friend" along with you of course.
There's no need to organise a dog sitter for your next trip away as you can bring him or her along with you. Dogs are welcome at Mortlake Caravan Park as it is a dog-friendly camping reserve.
For more information, please contact our office.